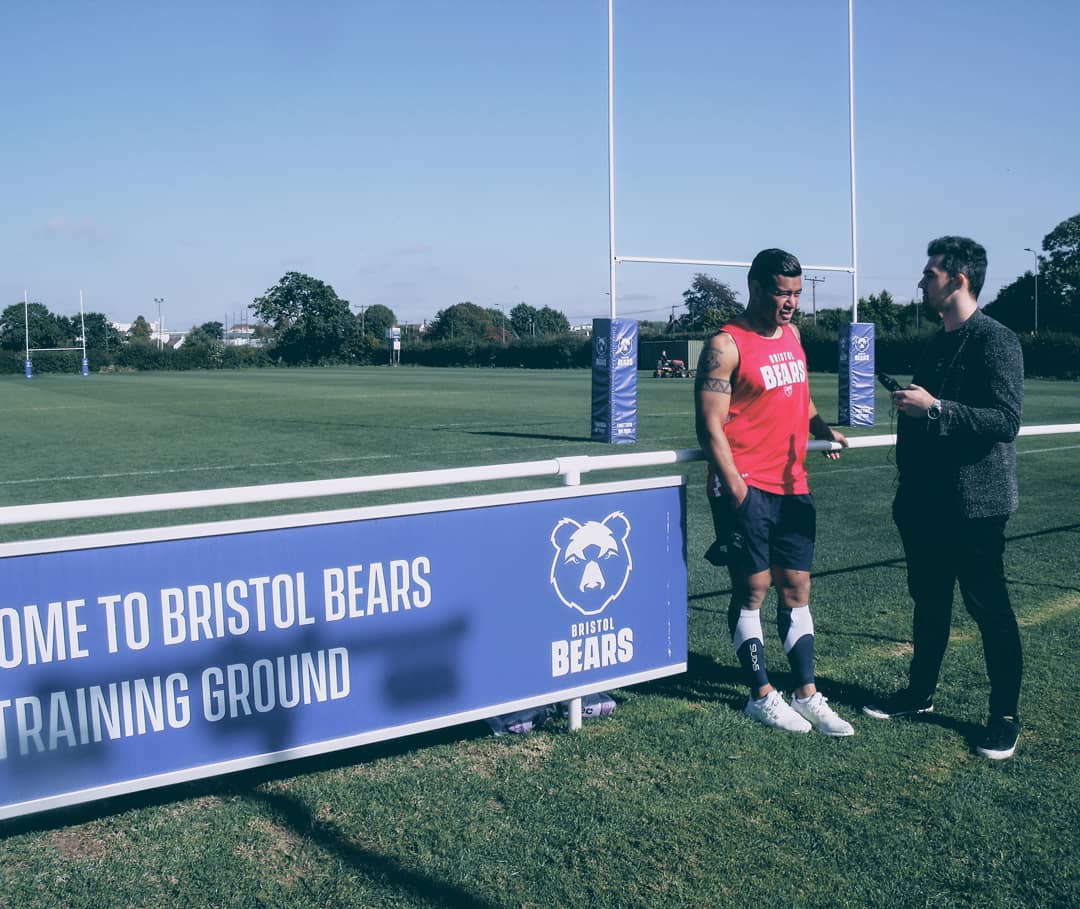 "I didn't see the All Blacks as a dream because I didn't see a pathway of getting there"
Speaking on:
Life with Bristol Bears, in the Premiership . . .
"Obviously, for people on the outside they would say that it is a great start you know, being back in the Prem, but for us as players we know that we could have started better. We know that if things had gone our way and we'd played as well as we could, then we'd probably be in that top six easy. So I think at the moment, quite happy with where we are at the moment, but we know that we can get a lot better."
What the ambitions are for a club like Bristol . . .
"For us as players, we have put it out there that we definitely want to be a Championship team. To be that, you have to be in the top six and we truly believe that we can be a top six team. We understand that it is going to take a lot of hard work with all of the stuff that we've been building on from last year into this season. We truly have that belief that we can get there."
Pat Lam as Coach . . .
"Personally, for myself, and I know for a lot of other boys as well, he's vision-driven and when someone at the head is vision-driven, it's a lot easier to jump on board and follow in that same direction. We've got our team goals and I believe that we are all heading in that direction. If we work hard enough and put out those performances, then we will achieve."
Playing with his brother Charles . . .
"It's the second time that we have been in the same team together so, obviously it's hard to explain the kind of feeling that it is to play with a family member. In the team we talk about this brotherhood that you have with other players, but to actually have another sibling playing alongside you, you just get the feeling that you don't want to let them down and you want to protect them. That kind of thing. It gives you an extra boost and we still push each other with that sibling rivalry."
Where his love for Rugby came from . . .
"For us, it was watching the All Blacks, being born and growing up in New Zealand. Watching them on tele and then having four other brothers where we played in the back yard and then obviously at school. It's the number one sport in New Zealand so I guess it really kicked off for me when I went to boarding school. It was the school that Jonah Lomu went to and a lot of Tongan kids growing up, aspired to be likes Jonah. We had that brotherhood and a lot of us stayed together."
How far he's come in his career . . .
"It was always a dream of mine, I didn't see the All Blacks as a dream because I didn't see a pathway of getting there, but it was in 2007 watching the Tongan team over in France, seeing the struggles that they went through off the field but how well they performed, that was my first impression in terms of, maybe I could represent Tonga? So to be there in New Zealand for that World Cup and to tick those boxes, was for me, an awesome achievement. Over the past few years it's been about trying to set new goals and where to get to. Now being able to captain Tonga and hopefully lead them into another World Cup, I'm just hoping to do my best, to inspire young Tongan players coming through."
Whether Tonga can make an impact at the RWC19 . . .
"Definitely, in terms of belief, for us playing in Tonga, there is not a lot there in terms of resources. We don't have anything to fall back on. We've got to work hard for each other and we've got to have that belief to be competitive. Over the years we have been able to build on that and get some good results, leading into this World Cup where we have been put into the 'Pool of Death'. But for us, we want to be up there with the best, competing against the best and I think that's going to bring the best out of us."
His memories of the 2011 RWC . . .
"It was one of the highlights of my career, being in New Zealand and being able to pass on that experience to younger players. I know that there a lot of players who are inspired to try and play in the Rugby World Cup, which is the pinnacle of the sport that we play."
His excitement levels ahead of the upcoming World Cup . . .
"I think for me, big picture, vision wise, you have to set those goals and I've set that as a goal to get to 2019. There are also these small things that I need to tick off because it's not just going to happen. At the moment my focus is here with Bristol Bears and trying to achieve here."
Which team he'd love to knock out of the World Cup if he got the chance . . .
"Well, we always have rivalries with Fiji and Samoa, they're big games for us. To get the bragging rights of beating them is nice. We beat them this year in the Pacific Nations Cup, so it's always nice to fall back on those bragging rights and remind them of that win."
Why he uses the word 'blessed' so often . . .
"For me, it's about my beliefs of being a Christian with the opportunities that I've been given. My parents coming from Tonga, like I said, there's nothing much in Tonga and they went to New Zealand to find a better life. I feel like the life that I've been given, is a blessed life. There were ten of us there growing up, that they had to support and my life could have taken a different direction. I know that this is a blessed life that we get to live, in terms of rugby, to perform on this stage and travel the world. It's just something that I try and instil in my kids, not to take it for granted. You've still got to work hard and having belief. Having that faith for me is massive."
Living as a Christian in pro rugby . . .
"In terms of belief I think a lot of guys respect that, if you are bold enough to say that you are a Christian. There's not really much banter around it you know. You just need to show that that's your faith and be bold. I found that in the early stages of my career, being in this realm of rugby, I did find it tough to come out and say that I was a Christian, but now culture is changing and we want to inspire the community. You can't inspire the community if you are doing things that contradict your beliefs."
What he does with his down time . . .
"The boys have been into Fortnite and I have five kids, so I've got my down time. I've got to put the kids to bed, make sure their homework is all done and then I get an hour or two just before bed, with the boys online. There is a lot of banter and at the same time you get to connect with guys back home in New Zealand."